Assorted Cookie Packs
Everyone loves a gourmet cookie, and we have six delicious flavours that we randomly fill our cookie packs with. These assorted cookie packs are good anywhere you need to bring a dessert to share or a snack for the children after a soccer game. If you really like your office mates, you'll get the Office Platter for the next  potluck lunch to celebrate someone's birthday or retirement. And if you really love your family, you'll also get the Office Platter for them. Just for the heck of it.
---
| The Cookie Monster Pack (13) | The Family Pack (25) | The Office Platter (50) |
| --- | --- | --- |
| $24.00 | $40.00 | $70.00 |
---
---
Wedding Sugar Cookie Favors
Can't decide what to give your wedding guests as favors? Why not try scrumptious gourmet sugar cookies that are elegantly decorated and wrapped in cellophane? You just place the favors around on the tables for everyone, and sit back and watch their eyes sparkle when they catch sight of these uniquely decorated cookies. Wedding sugar cookie favors are one of our more popular treats. But beware: small children will try to steal them from your guests. And some adults will, too.
---
Starting at $4.50 Each
Decorated Custom Sugar Cookies
Offering a wide variety of designs from baby shower, lego heads, snowflakes and beyond. Please call Cakes with Attitude to discuss your custom cookie order.
---
| 2 Dozen | 4 Dozen |
| --- | --- |
| $90-$135 | $170-$220 |
---
---
*Call Us to discuss your wedding needs and to receive a quote on our Wedding Sugar Cookie Favors.
---
Corporate Cookie Packs & Gifts
If you're looking for the kind of gift for an employee or a boss that will make a statement, gourmet cookies are the way to go. And the statement you're making is "You deserve something better than ordinary." Exquisitely packaged and consisting of randomly selected flavours of our gourmet cookies, these Corporate Cookie Packs strike just the right chord as any type of gift and for any occasion. Just make sure you have enough to share with everyone else in the office.
---
| Taster Box (6 Cookies) | Small Box (13 Cookies) | Medium Box (25 Cookies) |
| --- | --- | --- |
| $12.00 | $24.00 | $40.00 |
*Volume discounts available on orders of 5 or more cookie packs. Call for custom quote.
**Delivery available for Calgary area at additional fee.
---
Our Amazing Cookie Flavors
Seriously, These Are Better Than Your Grandma's
Chocolate Chunk
Imagine a gourmet sugar cookie with huge chunks of chocolate folded in so that every bite is a gooey mess of chocolatey goodness.
Double Chocolate
Now imagine a chocolate cookie with chunks of chocolate folded in for a double whammy of sinful chocolate. Careful though, these are addictive.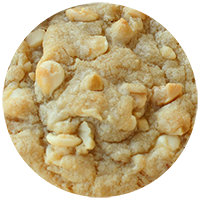 White Choco Macadamia
The exquisite pairing of white chocolate and macadamia nuts sends shivers down your spine. These gourmet cookies melt in your mouth. Well, maybe not the nuts.
Gingersnap
If you're thinking your grandma used to make the best gingersnaps, you haven't tried ours yet. You'll never guess what all goes into our gingersnaps. And we'll never tell.
M&M; Candy
When you stuff a gourmet sugar cookie with M&M;'s, something magical happens. And they still melt in your mouth and not in your hands.
Oatmeal Raison
Before you say anything, try one of our oatmeal raisin cookies. This is not your average oatmeal raisin. This is a succulent gourmet cookie that laughs at other oatmeal raisin cookies.