Quality From Start to Finish
What does your wedding cake symbolize to you?
A cake is the centerpiece of your wedding. It is a confectionary work of art that defines who you are as a couple. The cutting of the cake symbolizes your first act together as a married couple. You want this moment to stand out in time. You want to create perfection.
Don't trust this moment to just anyone.
The artisans at Cakes With Attitude are led by a Red Seal Pastry Chef whose experience and creativity have fashioned hundreds of the perfect wedding cakes that captured the true essence of a couple. The Red Seal represents the interprovincial standard of excellence. Why choose anything less?
---
Customized for You
Your wedding cake at Cakes With Attitude starts with you. The more we know about you and your fiancé, the more exquisite cake we can fashion to express your deepest sentiments.
Do you want something traditional with extravagant detailing? Or are you interested in something quirkier that speaks to your true self?
It's all in the attitude. And the taste.
Whatever flavor you desire, we can create a wedding cake that explodes with sumptuous indulgence.
Why go half way? It's your wedding. Have your cake.
---
Peace of Mind comes standard
You'll have peace of mind on your special day that:
Your one-of-a-kind wedding cake is in the hands of an experienced, professional, Red Seal Pastry Chef.
The flavor you've chosen will be exactly what you wanted, and the cake will be sumptuous and luscious.
All ingredients are more than just organic. They're fresh and specifically chosen to enhance the flavors and bring joy to you and your guests.
And best of all, you can feel confident leaving your wedding cake in our hands. We guarantee you'll be satisfied.
---
Wedding Cakes from Mild to Wild

Exquisite Flavors. Succulent Cake. Designed Specifically For You.
Fondant
We're trained specifically in the art fondant wedding cake decorating. Our focus in on crisp, clean corners, flawless finishes, beautiful draperies and other unique designs that can only be accomplished with fondant
Bold Designs
It's your wedding. Nothing is out of reach. Get the exact cake you want designed specifically for your special day.
---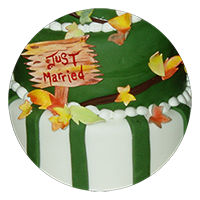 Colors
All the colors you've chosen for your wedding can be designed into your wedding cake. Your color palette is our guide.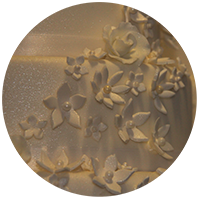 Handcrafted Sugar Flowers
Custom hand made gum flowers can be added to your wedding cake for a touch of class and elegance.
---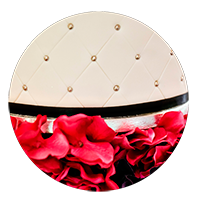 Detailing
You can have as much or as little detailing as you wish on your wedding cake. The choice is yours to make. Rest assured it will be exactly what you want..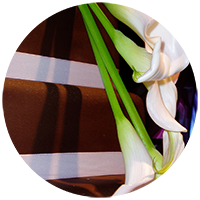 Fresh Flowers
You bring them in and we'll decorate the cake with them. Add a touch of elegance and make you cake match your décor like no other. Only available with delivery and setup option.
---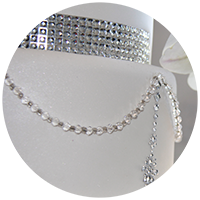 Jewellery
You provide what you want and we'll do the rest, pearls, broaches, crystals, heck even diamonds if you're not worried about a guest swallowing them.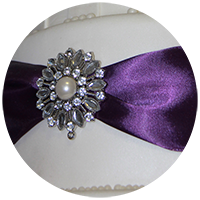 Ribbons
Different material colored ribbons can be added to your wedding cake for a touch of class and elegance.
Custom Wedding Cakes For Your Special Day
Cakes From Scratch
Only ever hand made. Only the freshest ingredients will do. Baked fresh for your wedding.
---
Red Seal Pastry Chef
Have a Red Seal Pastry Chef make the most important cake of your life. Why chance it with someone else?
---
Award Winning
An award winning confectionary artisan hand crafts your special wedding cake. It is intimately your design.
---
Egg and Gluten Free!
Special dietary requirements? No problem. We can make your special cake egg or gluten free, whatever your need.