Key Lime Cheesecake
Do you have any idea how many key limes go into our classical Key Lime Pie? Neither do we – we lose count after squeezing the life juice out of the 2nd bag. With a crust baked to perfection and a key lime filling that would make an Iron Chef jealous, this pie is guaranteed to make at least your taste buds tingle with ecstasy. Sure it's expensive, but it's cheaper than a flight to Miami, FL
---
| 8″ Round | 10″ Round |
| --- | --- |
| $60 | $75 |
---
---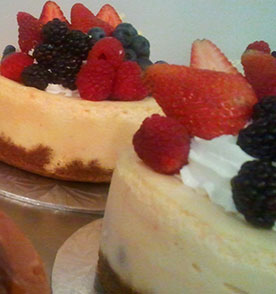 Cheesecake
Decadent tasting cheesecake is available in several different flavours with traditional graham cracker crusts. Made with the freshest ingredients, you'll want to try one of each: Vanilla, Chocolate, Turtle, Lime, Mixed Berry, Marble, Chocolate Mocha.
---
| 8″ Round | 10″ Round |
| --- | --- |
| $60 | $75 |
---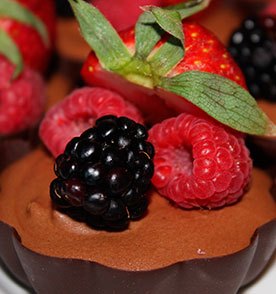 Mousse Cups
Exquisite mousse cups available in chocolate or fruit variety. Two dozen minimum order, but you'll want more.
---
---
---
Chocolate Dipped Strawberries
When fresh strawberries are in season, our Chocolate Dipped Strawberries add a touch of class and elegance to your table.
---
---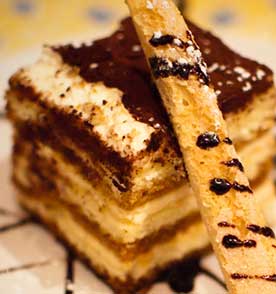 Mini Tiramisu
Mini Tiramisu is just as exquisitely flavoured as regular-sized Tiramisu with its unique ingredients. Just, well, mini. You'd be better off buying two.
---
---
---
Assorted Dessert Bars
We offer assorted dessert bar trays that come with a selection of different tasty treats. Your guests will love it no matter the occasion – from bridal/baby showers, to business functions or even a family holiday. Dessert tray comes with nanaimo bars, raspberry coconut dream bars, lemon bars, brownies and more.
---
---
---
---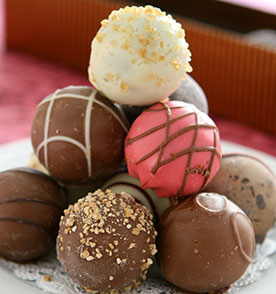 Chocolate Truffles
Imagine chocolate ganache covered in icing, melted chocolate, or chopped nuts. Our truffles will melt in your mouth.
---
---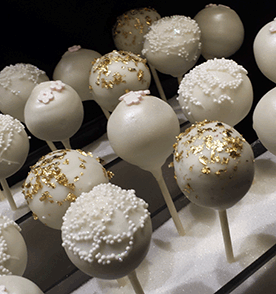 Cake Pops
Cake Pops are one of the hottest items on our menu. Choose your cake flavour, and we'll make the Cake Pops.
---
---
---
Fresh Lemon Curd Tarts
A tart that's tart, our Fresh Lemon Curd Tarts are a citrusy burst of flavor.
---
---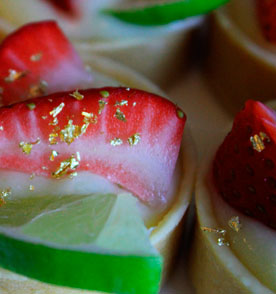 Fresh Passion Fruit Curd Tarts
The extravagant flavouring of fresh passion fruit gives this tart its unique taste.
---
---
---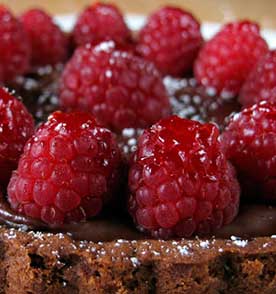 Chocolate Raspberrry Ganache Tarts
Combining the rich taste of chocolate ganache with fresh raspberries.
---
---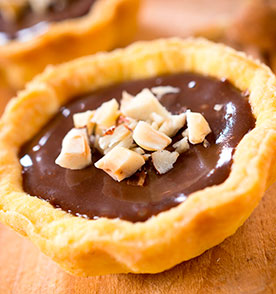 Chocolate Caramel Sea Salt Tarts
Salted caramel plus chocolate in a tart equals temptation beyond your control.
---
---
---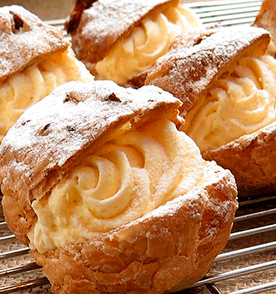 Cream Puffs
The perfect sized pastry filled with cream. Drizzled in dark chocolate with white chocolate curls.
---
---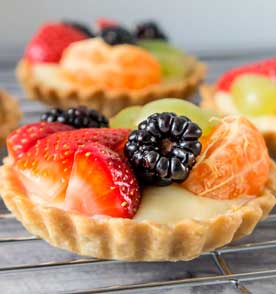 Bavarian Cream Tarts w/Fruit
What could be tastier than Bavarian Cream combined with fresh fruit.
---
---
---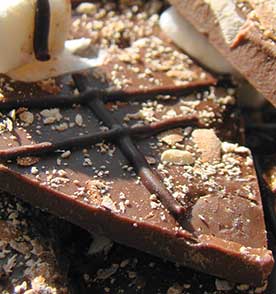 Chocolate Almond Bark
Sheets of milk chocolate filled with the delightful taste of almonds.
---
| Single Order | Double Order |
| --- | --- |
| $60 | $110 |
---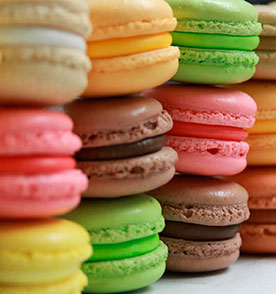 Macarons
Exquisite light cookie for any event. Flavors to choose from include Mango, Hazelnut, Chocolate, and Lemon Lime. Custom Flavors available for large parties..
---
---